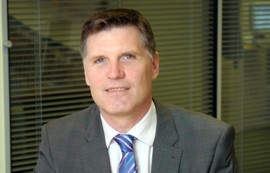 The good folks at Print Week take a look into our parent company Tech-ni-Fold's hunt for additions to their global distribution network-
UK-based auxiliary finishing equipment manufacturer Tech-ni-Fold is on the hunt for people with "unquestionable passion for print finishing" to expand its global distribution network.
The company is open to working with new businesses and people just starting their own firms, as it has done with several of its current distributors.
Managing director Graham Harris cites the example of Tech-ni-Fold's US distributer, who used to manage a bindery in New Jersey and saw Tech-ni-Fold's advert for a distributor and decided to get involved via his sideline distributor business. This company went on to turn over $500,000 (£300,000) in its first year, which it doubled in its second.
Similar success stories of finishing specialists setting up distribution companies with the support of Tech-ni-Fold, include the vendor's German and Mexican resellers.
"You can't beat passion of this magnitude," said Harris. "Such a way of acquiring business partners beats the normal method most manufacturers follow in working with tired dealers who just add your product to their portfolio, without understanding too much about the many products they represent."
The main areas Tech-ni-Fold is targeting, are Russia, Slovenia, the Middle East, Japan, Brazil, Argentina, Chile, Peru and India.
The company is looking for individuals passionate about the Tech-ni-Fold range through having worked with these machines.
Harris said: "We are looking for that entrepreneurial spirit; someone who is a good communicator. Ideally they'll have demonstrated innovative ways to develop techniques in print finishing already."
He added: "We are willing to invest time and money in the right person, and just like the show X Factor promises, we aim to change the lives of the people chosen."
To recruit, Tech-ni-Fold has posted a banner advert on its website which links to an application form at www.technifold.co.uk/distributor-opportunity/. Its second advertising phase will involve placing website banners in its target countries.
The manufacturer has so far received four applicants within the first few days of launching the drive.
Harris said: "I'm a former print finisher myself, and the Tri-Creaser I developed changed my life. I took to the road after I clocked out from my day job and trebled my earning capacity in a year by selling the product in the UK. I want other like-minded people in other countries to benefit in a similar way."