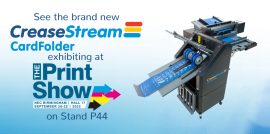 New creaser and folder launching at The Print Show –
CreaseStream is proudly launching it's brand new creasing and folding solution; the CardFolder at this year's Print Show exhibition…
We are very proud to be able to reveal details of our new 2 plate folder which has been designed primarily to mechanically fold medium to high volumes of pre-creased materials produced using our existing automatic, stand-alone creasing machines.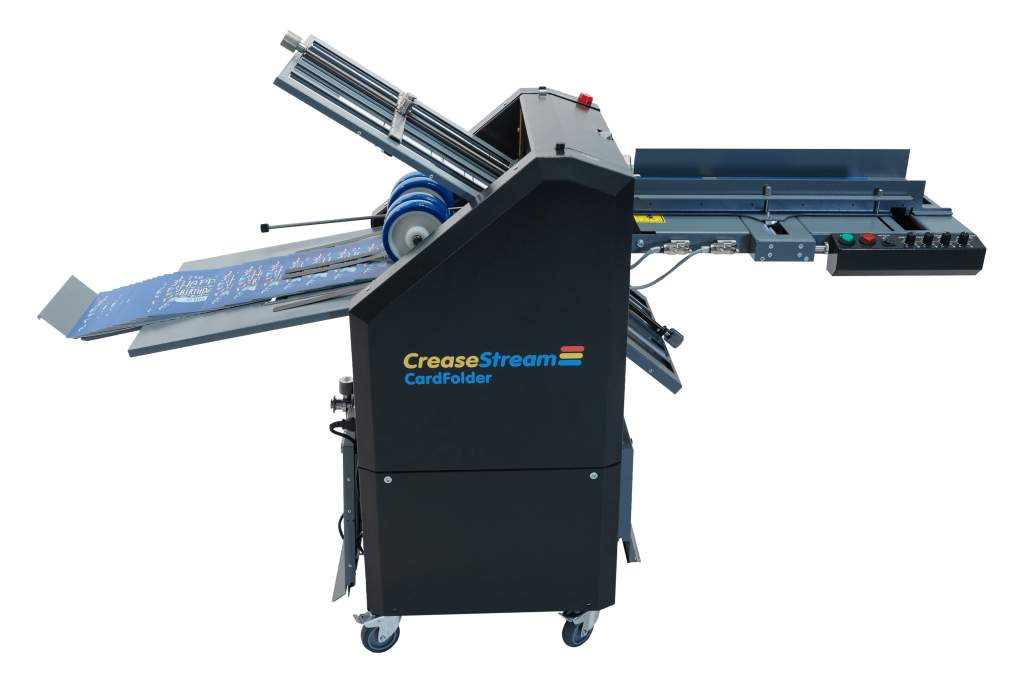 Due to the rotary nature of our creasing devices, we have always been able to prevent digital cracking, but folding has always been the missing piece to the CreaseStream jigsaw. After many years of testing different solutions that exist in our industry, we decided to modify a unit with large fold rollers and the results blew us away. Folded sheets of higher grammages are often prone to roller curl and shattering, but our system delivers them flat and undamaged.
The CardFolder will be paired with the Auto-feed MkII to create the perfect all-in-one creasing and folding solution
This new creaser and folder enables you to create 5 fold types including the most common half, letter or Z folds. The fold is achieved by the combination of manually adjustable fold plates and large-diameter rubber rollers. This simple but revolutionary solution allows you to crease one of the most in demand products in the world of low-production digital presses, i.e. producing professional fold on all kinds of stock up to 350gsm.
The CardFolder can feed, crease/perforate and fold up to SRA3, and at an impressive output speed that averages around 10,000 copies per hour. The fold plates are manually set using a very simple colour coding formula that decreases make-ready times whilst increasing customers bottom line profit.
The CardFolder will receive it's official UK launch at this year's Print Show at the NEC in Birmingham on 20th to 22nd September. Be sure to register for free tickets by clicking here and join us on Stand P44 to learn how you can revolutionise your creasing and folding.