Why Competition is a Good Thing –
Steve Humphreys takes a brief look at how businesses, and sports teams, view their competition…
Something to think about in the world of business is how you portray your competition. As much as everyone wants to be on top of the pile in their respective industries there isn't room up there for us all. In my opinion competition has to be seen as a healthy thing. If you were the sole provider of a service that people needed you could become sloppy with that service, not listen to your customers and be driven purely by profit, which would more than likely result in unhappy customers. Some people this wouldn't bother, the customer has paid their money and that's that. This is not the CreaseStream way though, we want happy customers!
The inspiration to write this article was the picture below which was on an advertising hoarding in Manchester: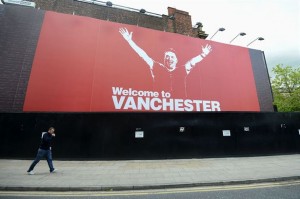 As it turns out it was by an online betting company but you would be forgiven for thinking that Manchester United were having a poke at Manchester City. I know it is still early days in the Premier League season but so far the poster hasn't bought much luck and had United actually done this themselves there would be egg on the faces of their marketing department right now.
Obviously the previous reference was more about sports teams than businesses (although the line between the two gets blurrier by the day) but there are many examples that you see of companies whose selling tactic is to put down the competition. We don't condone or practice this kind of tactic, it almost feels like the sort of thing politicians would say; "They promised you this but didn't do it!" Of course you want to believe you are offering a better service and/or product than your competition, you wouldn't be in business if you didn't, but if that is genuinely the case surely you want to sing about the benefits that you provide instead of focusing on what your competition doesn't? This is where we feel we can really stand out, we have no need for false claims and the results that our products provide speak for themselves. We are even extremely proud of the after service we provide and as a company are regularly sat around the drawing board brainstorming about how else we can improve the customer experience. Seeing truly is believing and we want you to see for yourself what our machines can do for your business. To arrange a demonstration follow the link below: