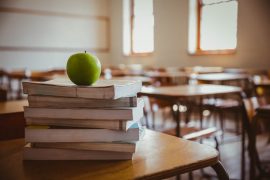 7 reasons why your education facility's print room needs a CreaseStream machine –
CreaseStream machines are extremely versatile pieces of print finishing equipment used by businesses of all sizes all over the world. But what about colleges, universities or other types of education facilities, would their print rooms be a suitable place for one…
Give students a quality finish to their printed work
When making printed work, why spend a long time designing and printing something to then use cheap finishing methods to ruin the final job? Students want their work to look as good as possible to help them achieve the results they desire, and a CreaseStream will help them achieve this.
Teaching more practical print skills
If a student is learning about printing, with a view to going into the trade, would they not be better equipped to enter the print industry knowing about finishing too? With a CreaseStream machine they can quickly learn the principles of finishing and easily apply them to the work they produce.
Quick turnarounds
Do you have lots of students, each producing different documents that all require a slightly different finish? If so a CreaseStream machine that is quick and easy to set will allow quick changeovers from one job to another, especially once they have learnt how straightforward the machine is to use.
Variety of results available
Whilst having touched on this slightly already, it is an important point to hammer home. Maybe some students just want to crease a brochure, whilst others may need to edge trim or add a perforated tear off to a document? Whatever the requirement, a simple change around of the tools on the machine will see a crease job become a micro-perf job in no time.
Not budget breaking
It is no mystery that in the world of education, budgets and margins are tight, meaning that every facility cannot always provide students with the equipment they would like to. This however does not apply to the CreaseStream range, each machine is highly affordable, with a machine to suit every budget. They all also sit in a nice gap in the market where no other brand-new machines that provide the same quality of result exist.
Fits any sized space
Print rooms come in all shapes and sizes, with print rooms at educational facilities being no exception. This can mean that space is at a premium and new equipment can't always be considered due to this restriction. Not so with a CreaseStream, with a footprint of well under 1-meter square you can easily squeeze one in on a spare bit of tabletop. They are light and can be stored out of the way when not required and can even be provided with their own mobile table should you have no counter space or require it to be regularly moved around.
Finish your own documents
Students aside, having a CreaseStream in your locker will allow for the finishing of your own facility's documents too. Flyers, tickets, brochures, whatever it may be that someone on campus requires processing, you will be able to comfortably and easily get it finished, without monopolising the machine away from student usage.
Hopefully this has given you plenty of food for thought regarding your own education facility's print finishing. If you have any questions about the CreaseStream range, or would like to enquire about purchasing one for your print room, simply contact us by clicking the link below: