How To Get Micro-Perfed Sheets From a Creasing Machine That Will Run Through Any Laser Printer, Copier Or Digital Press –
It is a sad fact that micro-perforated sheets that come from most traditional creasing machines won't hold up when being processed again through another operation. The perf may look good enough on first examination, but see what happens when it runs through a laser printer, copier or digital press and you will be surprised. Quite simply the sheet is often damaged as the teeth puncture it, causing a ridge to form before pushing out paper dust that can lie on the sheet. The ridge, the dust and the possibility of the sheet falling apart are three elements that can greatly threaten the next process.



Two examples of micro-perforation; firstly one from an expensive flat bed, the second from a traditional creasing machine
A high percentage of creasing machines don't easily lend themselves to accommodating intricate micro-perforating applications, simply because most of the developers focus has been attributed to getting the one area that strikes the crease into the sheet right, and set to perfection. A few machines have the facility to substitute the creasing blade for a micro-perforating rule so the operator can send certain types of work through, however, many of these micro-perforating rules can take a certain amount of time, effort and skill to set correctly, and the results can be less than average.


Typical micro-perforating rule that can replace the creasing blade
Some creasing machine manufacturers have thought about the application of micro-perforating differently and have added rotary devices onto a pair of shafts, directly after the creasing chamber. Unfortunately, the major downside to rotary micro-perforating in these cases, other than having to run it as a separate application because the sheet feed direction is wrong, is the actual quality of the perforation itself.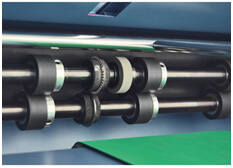 Typical rotary micro-perforating devices don't produce the quality required
Here are why these types of micro-perforation systems do not achieve great quality according to our research…
Most rotary micro-perf blades used in this application come as a standard 12 TPI (teeth per inch). True micro-perforating perf rules used on a flatbed cylinder start at 17 TPI.
The flat side of the rotating blade runs against the side of a steel anvil below – this is destructive because the teeth aggressively puncture the sheet and immediately weaken the sheet in the area of penetration.
Metal against metal is a recipe for disaster
It's a fact that blade running against anvil, or metal running against metal is no more than a recipe for disaster. Something is always likely to ware out or break and it usually happens when you least want it to, costing precious time and money.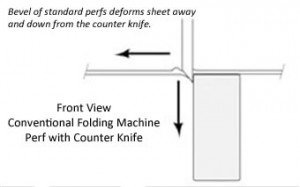 Before coming up with the perfect solution to long lasting, trouble free and perfect rotary micro-perforating we studied the process adopted by flatbed cylinder machines. We also studied the mechanics of folding and scoring machines before combining all positive factors with our own ideas. It seemed obvious that pressing a perf blade on top of an anvil to produce a flatter result was the key to rotary success.
Our Micro-perforator outlasts conventional methods several times over
Our CreaseStream Micro-perforator was created as a result of extensive market research over many years. Not only does our system produce an array of micro-perf options but it was designed using new technology that adds strength and longevity to the unit, so that it greatly outlasts conventional methods several times over.
Unlike conventional devices, the CreaseStream Micro-Perforator is designed to kiss-cut the sheet, and the narrow profile perf blade cuts through only to the bottom of the sheet, not beyond, which also minimises the knife area in actual contact with the substrate.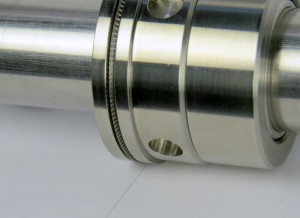 The perfect flat perforation available in all CreaseStream machines
This means you get a cleaner, finer cut which permits the sheet to lay flat, and because the CreaseStream Micro-Perforator's blade is mounted on a special absorbing nylon, you get an accurate, precise kiss-cut the entire length of the sheet. CreaseStream Micro-Perforator blades are break resistant for two reasons:
Strong double bevel construction; the hard wearing blades have been specially designed to penetrate paper.
They cut against a comparatively softer nylon rather than steel. You get perfect, straight line micro perfs without the cost or the headache!
The CreaseStream Micro-perforator is the only rotary action solution that replicates the proven micro-perf results you see come from the flatbed cylinder. The package includes 17 & 25 teeth per inch blades (52tpi & 72tpi blades are optional) that deal with stock ranges 65-350gsm, and a choice of two nylon cutting anvils that greatly minimise blade ware.
Benefits include:
Eliminates micro perf outsourcing
Save hours and days in turnaround time
Produces sheets that will run through laser printers, copiers and digital presses
Sells jobs that you used to turn away
Saves thousands of pounds on replacing printing press blankets
No installation required, simply slide onto CreaseStream's shafts
Frees up your printing press and die cutter for more profitable work
Never break a perf blade again!
To be sent some free micro perf samples ran through a CreaseStream machine, follow the link below: