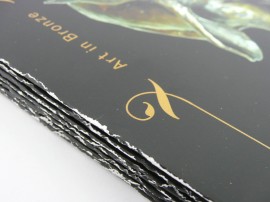 How poor creasing can instantly kill the look of a printed sales brochure –
The other day a sales rep turned up at my office promoting a printing event I was rather intrigued to learn more about. I had heard the rumours in the trade press, and received the emails that told me that this was going to be the dynamic breakthrough show of the year, one to put print shows back on the radar. All was going well until the rep handed over the brochure that was designed to wow me and clinch my signature. Unfortunately for him I instantly noticed that his nice glossy brochure was spoiled by ugly white splitting and breaking along the outside of the folded spine, obviously the result of poor creasing. I even opened up the brochure to see cracking on the inside folds staring back at me, which was quite disconcerting, especially as my company are developers of creasing technology that stop this kind of problem from happening.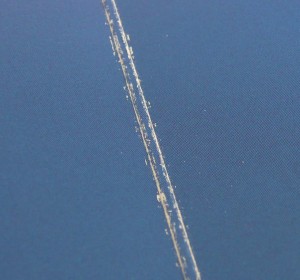 An example of cracking on the inside of a brochure's spine
The rep was quite embarrassed and told me that another couple of people had mentioned the poor creasing too and that one of them had binned his brochure straight away without bothering to read its contents. Apparently, the printing company who produced the brochure had been fired and the reprint was underway as we spoke, or so the rep told me. Whether this was true or not didn't really matter too much, he had already committed the cardinal sin by presenting me (the MD of a creasing manufacturing company) with a great vision his organisation had generated to rejuvenate the printing industry using a poorly creased brochure as his main selling tool. I couldn't help feeling that he should have rearranged our meeting for another day or two until his brochure was reprinted, given that one other person had already binned it. Maybe I am a little harsh or sensitive to the problem; I will let you be the judge of that. However, in my opinion cracking may be excused when found on flyers that advertise cheap bargains or reconditioned cars, but not on glossy brochures that advertise premium products or prestigious printing events.
I am a great believer that poor creasing or bad folding instantly kills the look of a brochure and discredits' the pitch of the person that hands it out, no matter how great the message is. Too much time, money and effort goes into print for some poor creasing solution to spoil its finished appearance. Surely if you spend a few minutes discussing how poorly finished a printed document looks with the person that hands it to you then you are onto a loser, after all you usually only get one chance to make a first impression.
The solution to successful brochure creasing
Brochure creasing has to be perfect, it needs to look clean and professional, and there cannot be even a hint of cracking. The crease needs to be straight and consistent throughout the whole job and the folds cannot be crooked, this is critically important.
This short video shows how high quality, professional brochure creasing can be carried out at over 4,000 copies per hour:

For more information, including our latest prices, please email Lee White or call him on +44 (0) 1455 554491