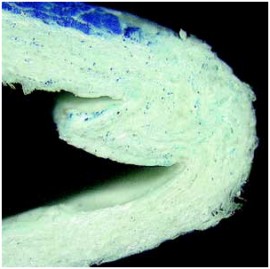 Tips for Scoring and Folding –
Carrying on with our short-run finishing tips, here's some advice on scoring and folding light weight paper stocks…
It was love at first sight. Digital printing introduced you to fast turnaround, personalization, and low-cost full colour short runs. Then you tried to fold your beautifully printed jobs and as quickly as it began, the honeymoon ended. Dry, brittle sheets, with toner flaking and cracking, turned simple folding jobs into complicated print finishing exercises. In many cases, the extra step of scoring, or creasing, was required to finish a job without paper cracking or tearing.
The good news is that most of the new digital papers are fairly easy to score using tools such as the Tech-ni-fold Tri-Creaser or the CreaseStream Mini Series. Digital papers have a bit more bulk and stiffness engineered into them than conventional offset lithography stocks of the pre-digital era.
There is, however, a trap to avoid when scoring light weight papers, whether digital or offset. In small shops, it's common to score on one machine and take it to a separate folder for final folding. The potential problem is this: if you score the job incorrectly you won't find out until you get it to the folding machine. And by then it is too late because the entire job has already been scored. It's not something you can fix.
Of course if you are scoring and folding in a single inline operation you need not worry about this. You get instant feedback on the quality and position of the crease. But most small print shops, design shops or small businesses that do their own printing usually work with smaller budgets than a commercial printer. This means they use separate, lower cost scoring and folding equipment.
Yes, you can still produce professional results in a timely fashion on such equipment. But you need to build in a quality check that connects these two vitally important finishing operations — scoring and folding.
It's easy to make the mistake. As you're scoring the job you fold them by hand and they look great. Then you put it on the folder only to find it doesn't want to fold in the same spot as when folded by hand.
The folder exerts force differently than the way your hands do. The difference can be enough to ruin a job, especially if you have two or more scores involved. A botched single-fold brochure is easy to fix, typically with a trim off one side or another. A letter fold is a different story, especially if the front panel is too short.
The solution is a simple matter of prevention:
1. Set up your scoring machine and run a handful of sheets, but not the entire job.
2. Then set up the folder to run some test sheets before you score the entire job. Use waste sheets without the score to get your fold plates adjusted.
3. Now fold some of the live, test sheets with the scores. You want to check that the score is positioned correctly and that there is no fiber cracking. It could save a lot of post-press labour and aggravation, and will avoid the need to reprint a ruined job.
The reason thinner papers are a little more difficult to score is fairly simple. Scoring works by compressing and internally delaminating the sheet with the use of male and female components. (photo below, from Sappi Paper's Folding and Creasing) This is what prevents unsightly fibre cracking in which the paper itself actually bursts or tears. The thinner the sheet, the thinner the female channel you need. As paper gets thinner, there is simply less material there to delaminate.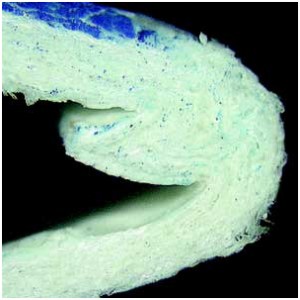 You can also see that a score is actually two hinge points that are very close together on either side of the bead, as shown in the photo below. For all practical purposes, there is a limit to how close together you can get these two small 'hinges' using paper scoring tools.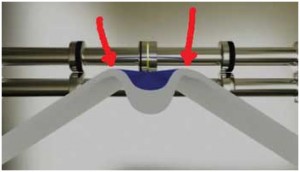 The net effect is that the actual fold will take place at the weakest spot on the score, somewhere between the two hinges. Depending on how wide the score is, the resulting variation in folding can be visually significant, enough to make a job unacceptable to a client.
If you are new to scoring and folding light digital stocks, don't take anything for granted, especially if you are accustomed to working with heavier card and cover stocks.
The takeaway point is that any time you have two vitally linked operations done separately, you need to keep them connected through testing. In short, run a few pieces on a scoring machine such as a Mini and then run those same sheets on your folder, such as a Baum 714. The small amount of extra time it takes will easily pay off in better finishing quality, fewer rejected jobs, and less wasted time and paper.