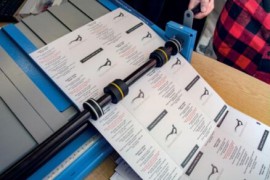 CreaseStream Card Creaser Case Study –
Our friends over at Quick Print Pro magazine have been using one of our Card Creaser machines, read their case study to hear their thoughts on it…
"The QPP beta test studio has been left wondering why it has taken so long for this to come to market. It is so much quicker to use than the manual creasing machines that are regularly used in our finishing room and you aren't limited to one crease at a time.
It is easy to set the creasing devices – there are four channel widths – just simply choose the one most suited to the weight of paper/card you are working with.
The double crease for trifolded leaflets is so much better than the manual way of producing one crease then turning for the second crease.
There was also need for a third crease on one occasion so having produced the usual two creases the machine was re-set and the card put through again.
Probably the highlight was the speed in which 500 sheets of 250gsm, each with 8 A6's which had to be creased to ultimately produce 4pp A7 cards went through the CreaseStream. These sheets were then guillotined and boxed up all within half an hour.
I don't think the CreaseStream will be leaving after the test period as with the Christmas card season approaching the Colourfast bureau team are already looking at where it will fit in the finishing room."
To read this article as well as the rest of the October issue of Quick Print Pro magazine, you can click here for the online digital version. You can also learn more about the Card Creaser machine that this case study is about by clicking here to see some videos and download a free brochure.