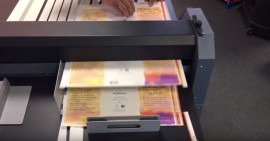 Card creasing and trimming with one simple set up –
In our latest blog we explore how to fully finish a Christmas card using just one of our machines…
We would like to ask you a couple of questions? When do you start printing Christmas cards, and how do you usually finish them? We would love your thoughts regarding a card finishing solution we happened upon using our poster trimmer?
This is a light bulb moment we experienced after we discovered our poster trimming machine could be transformed into a Christmas card cutting and creasing machine. We utilised it's width to create 2 feed channels to the cutting, creasing & perforating shafts. The result – perfectly finished digitally printed Christmas cards (it can also be used for a full range of printed media, from leaflets to wide format brochures up to 400gsm). It eliminates the need to pre-cut the full sheets after they come off the digital press, so they can easily be trimmed (and creased) in 2 simple passes on the one machine instead, just in time for Christmas card print season!
Oh, it can also be turned back into a poster trimming machine and more.
You can see the results of the Christmas card trimming and creasing we did in the video at the bottom of this page.
We are currently offering this machine, with all the tools seen in the video so that you can replicate the card finishing job we did, at our best ever rate, and are even offering free UK demonstrations as well as discounted shipping for international customers. To find out more, and to receive a brochure for this exciting new development, simply click the link under the video.
To make a price enquiry and to receive a brochure, simply click this link: