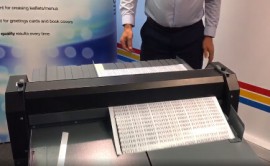 Poster trimming now available –
Looking for an effective way of trimming posters? CreaseStream can help…
We are constantly researching and improving our machines here at CreaseStream and a development you may have seen is the Junior 75, our wide format finishing machine. For those of you a little more unfamiliar with this solution you can learn more here.
Part of our development for this machine has been to improve it's cutting and trimming capabilities, so what better way to test it than by trimming some sample posters we had printed.
The CreaseStream Junior 75, as it is now, will trim 4 edges off a poster, a banner or any large format print up to 80cm in width, in 2 passes. Following on from this if testing of this machine continues to go well we expect then we will widen it to accept A0 size sheets. Our CreaseStream solution can also crease & micro-perforate at the same time as it trims, those features are optional.
You can see the results of the poster trimming testing we did in this video:
To learn more about this, or any of our solutions, contact us today: