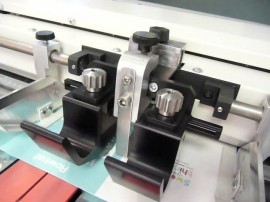 CreaseStream planning to licence their newly patented sheet feeding technology to other areas of the printing industry –
The opportunity has arisen for other print finishing machine manufacturers to utilise our patented sheet feeding technology, read on to see if it is suitable for your business…
Digital creasing machine innovators, CreaseStream have announced their plans to licence their successful sheet feeding technology to digital print and finishing machine manufacturer's outside of the creasing area of the market. CreaseStream recently acquired full European patent status for their Gravity Flow Feeder and are about to receive the US equivalent.
The Gravity flow feeder is described by CreaseStream owner, Graham Harris as a sheet feeding technology that works more efficiently than systems that use vacuum pumps and air jets in the design and construction, he explained in his own words, "Vacuum feeders are not only noisy and expensive, they can also struggle to cope with processing heavy stock materials because of weight and separation issues. And we know that friction feeders cope much better but are prone to marking digitally fed materials, scuffing the toner – let's just say that we created a feeding system based more on the friction method, that doesn't bring about such problems, it is simple and less complicated to work with".
Harris sees an opportunity to make use of his patented feeder by allowing other manufacturers outside of the creasing sector to build and incorporate it into their own systems. CreaseStream utilise their feeder into all fully and semi automated creasing machines they produce, and Harris feels that there is good scope open in areas of print and finishing production.
So far Harris has one licensing deal under his belt and is asking organisations who may be interested to come forward, the technology can be seen in the following video: