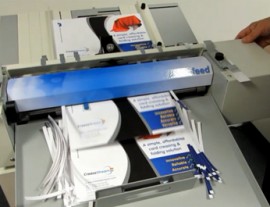 How to take an opportunity –
When it comes to winning a sale against the odds, no one relishes the challenge or opportunity more than us…
It might look messy, even a touch ugly, but sometimes helping a customer to solve a problem when no one else can is all that matters, isn't it?
Affordable versions of creasing solutions usually only have the ability to apply one crease at a time, which obviously slows down output significantly for every strike made by the creasing blade into a matrix. The stop, start nature of this production cycle doesn't lend itself to increased production, just ever decreasing production.
Our CreaseStream Auto-feed does exactly the opposite by speeding up the process for every crease application that is added, however, neither solution was intended to help customers save on pre-guillotining their work, but a call from a Funeral Director changed all that – we added in our guillotine quality cutters to save the day!
I don't particularly like anything too messy, but at least we solved a problem for a new customer by going above and beyond the call of duty!
To see the video of this process in action please click the video link below: